Carry-On Travel Backpack:
Manufacturer:
GORUCK GR2 40
Capacity
40

L

Weight
2.2
Dimensions
56 x 32 x 23
---
📆 17 days in Netherlands, Germany, Czech Republic, Hungary, Greece, and England
🌡 Between 14 and 24 degrees.
Travel Month: July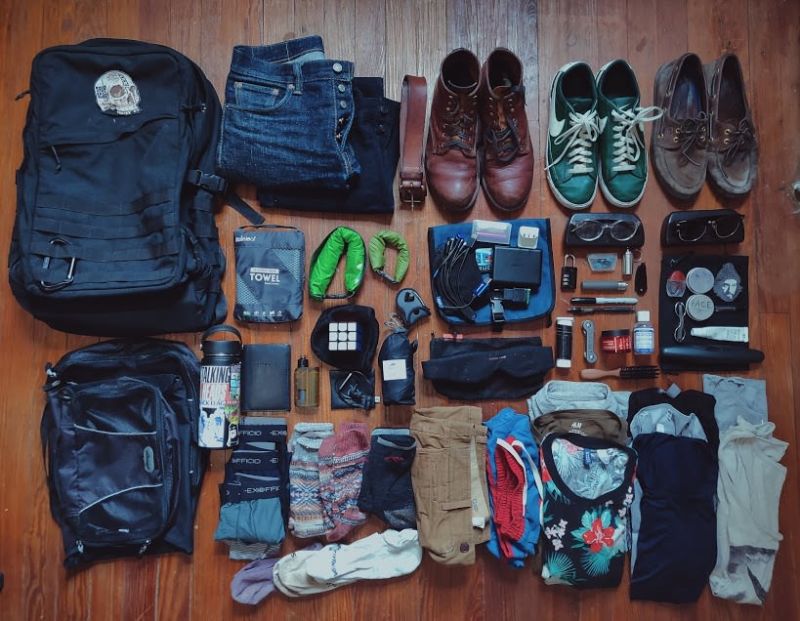 /u/MickeyBronson posted a great packing list for a 17 day trip around Europe with friends of his. What I like about the list is the variety of clothes and shoes he brought along. Also, I love how Mickey did his own laundry on the way.
The skull patch on the GR2 is interesting. I love it, but In some countries, a skull patch could draw some unwanted attention.
Carry On Wear and Tear
When you are hitting a lot of countries on your trip it means a lot of travel. Whether you're taking buses or trains, driving, or hitchhiking, it means a lot of wear and tear on your bag.
When you are moving around a lot, through six countries, you have to make sure your bag can handle it. Budget carry-ons won't work well for this type of travel, but a tough suitcase like the GR2 will hold up fine.
The Jean Dilemma
Mickey wrote that he could have lived without the jeans and during the summer and I can understand that. Jeans are very hot in the summer. Jeans made from synthetic blends or lighter colors can be a bit cooler, but they will always be hot.
Hot jeans mean sweaty legs, which mean wet jeans, which means chafing, shrinking, and difficulty moving around. A pair of loose chinos or shorts would be much better.
The problem with jeans in Southeast Asia is the hot and humid weather.
In Europe, the problem with jeans is more subtle. One of my favorite parts of Europe is the outside sidewalk cafe's and restaurants where you can waste an afternoon eating and drinking with friends. Even with shade, which comes and goes as the sun moves, it tends to be very hot. You'll probably end up sweating even a little at some point.
Then you attempt to get up and leave to find your jeans are a little damp, shrunk a milimeter, and walking is a little more difficult. Its 2 miles back to the hotel and wish you brought different pants.
Laundry
Mickey did his own landry on the way which is great. Onebagging is always laundry-limited so getting used to doing your own is a great way to make sure every single day of your trip can be about experiences rather than waiting for your underwear to get laundered.
Followup Comments
I let Micky know I posted his list and he had the following comments:
OMG the patch! I totally forgot to mention it. It's called a Mokum Skull, made by Dr Tiquestar, a local graffiti artist that lives in Amsterdam (aside from the GR2, Phone, and my PBJ's, it's the most expensive thing I brought with me). Luckily nobody gave me any **** for it except for airport security. Which after my bag got inspected a couple of times, i decided to take it off and put it in the front pocket. But you're right about making sure people don't take the wrong way. Love the site and the write up by the way. All on point.
Source: https://www.reddit.com/r/onebag/comments/8zd1p1/aar_6_countries_in_europe_17_days/
Added By:
John Farrell